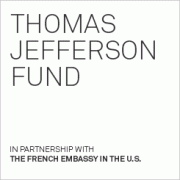 For professors or researchers with a mid- to long-term position at an American university or research institution
Up to 9 grants awarded for two-year collaborative projects
The Thomas Jefferson Fund is a program sponsored by the French Embassy in the United States and the FACE Foundation to support cooperation among the most promising young French and American researchers, and foster forward-looking collaborative research that addresses the most pressing global challenges.
Up to nine grants will provide $20,000 over two years to each selected projects.
Applications are accept­ed in the three following fields: Humanities and Social Sciences; Science, Technology, Engineering and Mathematics; and Science for Society (interdisciplinary STEM-SSH projects).
The Thomas Jefferson Fund aims to encourage and support innovative research of the highest quality and new collaborations, and especially seeks to support projects involving young researchers (post-docs, PhDs). Projects involving important transatlantic mobility, collaborative research activities, the organization of workshops or conferences, the publication of joint articles will receive the highest priority.
Projects must be submitted jointly by scientists in the United States and France.