02/05/2016 - Grants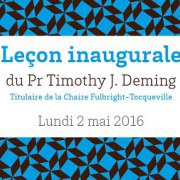 Professor of Chemistry and Biochemistry at the University of California, Los Angeles, and Fulbright-Tocqueville Distinguished Chair (from February to July 2016), Timothy J. Deming will give his inaugural lecture in Bordeaux on Monday May 2nd.
At the invitation of the president of Bordeaux University, Manuel Tunon de Lara, Professor Deming's inaugural lecture will take place at l'Agora, domaine du haut carré in Talence, in presence of Thomas Wolf, Consul of the United States in Bordeaux and Arnaud Roujou de Boubée, Director of the Franco-American Fulbright Commission.
Design of new synthetic biomaterials for regenerative medicine
Natural evolutionary processes have produced structural proteins that can surpass the performance of many man-made materials. These biological polypeptides are all complex, multifunctional copolymers that derive their phenomenal properties from precisely controlled sequences and compositions of the constituent amino-acid monomers. These sequences, in turn, lead to precisely controlled self-assembled nanostructures. Recently, there has been interest in developing working on biomimetic polypeptide based materials since these are reproducibly prepared in large quantities, chain lengths and compositions are easily modified, they allow facile incorporation of bioactive functionality by use of amino acid monomers, and their chain conformations can be used to guide physical properties independent of many other parameters. The versatility of polypeptides gives them tremendous potential as multifunctional carriers that can be used overcome the many hurdles encountered in regenerative medicine. Recently developed methods for preparation of functional polypeptides, and use of copolypeptide hydrogel structures as scaffolds in regenerative medicine will be discussed.
Click here to read the biography and the complete presentation of Pr. Deming's project.