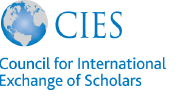 Council for the International Exchange of Scholars (CIES), Washington, D.C.
1400 K Street, NW, Suite 700 Washington, DC 20005
Phone : 202.686.4000
Fax : 202.686.4029
Site web : http://www.cies.org/
The Council for International Exchange of Scholars (CIES), the scholar division of the Institute of International Education (IIE), is well known for its expertise and extensive experience in conducting international exchange programs for scholars and university administrators. For seventy years, this organization has administered the Fulbright Scholar Program on behalf of the United States Department of State, Bureau of Educational and Cultural Affairs (ECA). The CIES is responsible for the pre-selection of American candidates and the effective integration of Fulbright scholars arriving in the United-States.