Campus France is the national agency for the promotion of higher education, international student services, and international mobility.
Consult the website to learn about all the opportunities to study in France through Campus France: http://www.campusfrance.org/en 
This website maintains a research tool to help identify funding sources  for U.S. students and scholars interested in studying in France. For example, through this Grant search engine, you can find the Chateaubriand fellowship: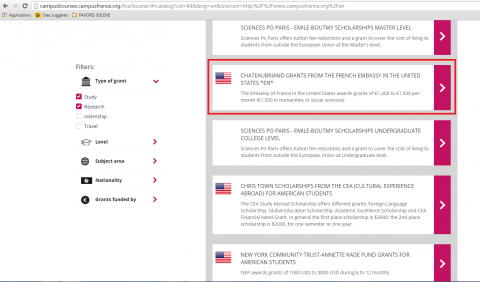 Discover also Immersion France, an app for cell phones and tablets which is multilingual, free, and easy to access.

Immersion France is:
- a directory listing the best offers of language centres in France: Qualité Français Langue Étrangère (French as Foreign Language Quality) label, Qualité Unosel (Unosel Quality) label, Office quality contract and institutions member of the Campus France Forum

- a support to decide which tailor-made stay to choose

- an interactive map to discover the French regions

- over 100 promotion pictures and videos

- hundreds of stay offers detailing learning of French language and cuisine, tourist travels, and trainings
And for institutions, Immersion France app provides:
- a dedicated space to promote your stay offer: description, HD pictures, and geolocation
- a promotion campaign relayed by the French cultural network abroad and the French embassies and services
- an exclusive partnership with Campus France, the public operator for student mobility, Atout France, the public operator for the promotion of tourism, and TV5 Monde, the French international channel broadcasted on all 5 continents
- a direct contact with users of the application
- statistics on users who have viewed your offer
- technical support and advice on the promotion of your offer
Click here to download the application!