04/10/2021 - Alumni : évènements, publications et soutenances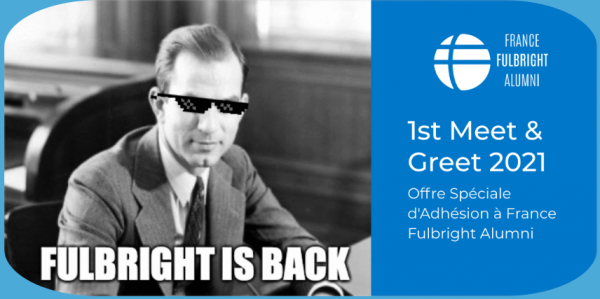 OCTOBER 22nd at 19:00:  SAVE THE DATE!

Are you a:
French Fulbrighter?
American Fulbrighter?
Fulbrighter from all horizons currently in Paris?
 
WHEREVER YOU'RE FROM, JOIN US ! MAKE NEW FRIENDS!
Le PISCOBAR, 13 rue du Temple à Paris
Our Meet and Greets are an opportunity for Fulbrighters and anyone who shares an interest in French-American friendship (or just friendship!) to gather round, have a drink and some food in an INFORMAL & CHILL SETTING.

Come as you are and ENJOY YOURSELF!
OFFRE EXCLUSIVE D'ADHÉSION À L'ASSOCIATION
 
Rejoignez l'Association avant le 22 Octobre 2021
et profitez de :
30% de réduction sur votre adhésion !
10% de réduction aux événements exclusifs 2021 !

AVEC LE CODE: WCBK2021

* Pour bénéficier de la réduction de 30%, entrez le code AVANT de procéder à la confirmation de votre paiement. 
** Réduction de 10% applicable au dîner de Thanksgiving et au Wine & Cheese de Noël. Les dates exactes vous seront communiquées ultérieurement -dès qu'elles auront été fixées définitivement par notre petite équipe (très motivée) qui œuvre pour faire vivre votre communauté :)
Ce message provient de France Fulbright Alumni, une association indépendante de la Commission Franco-Américaine Fulbright.