15/04/2016 - Rewards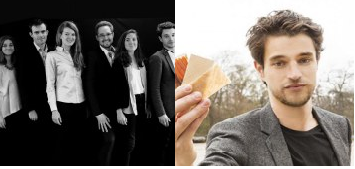 Innovators Under 35 France 2016
Ten young innovators have been chosen as finalists for the MIT Innovators under 35, France award recognizing the best young talents in France. These young entrepreneurs are seeking to transform the world with innovative ideas to promote equal access to healthcare and implement ecologically sustainable practices. Only one of the ten nominees will win the title "Innovator of the Year," but whatever happens tonight in the Glicenstein auditorium of the BNP Paribas building in Paris, they're guaranteed support from a network of their peers previously recognized as MIT Innovators.
The winner of the Innovator of the Year award will be known shortly. One by one, each nominee takes the stage to present his or her work, and the speeches are fascinating and compelling. This impressive group of trailblazers has the passion and energy to make their visions a reality, the ability to convince, and an appetite for success. Their companies range from fledgling start-ups with just two employees, to start-ups that have expanded to 200 employees over the course of 18 months (and with plans to hire 200 more).
The former laureates join the stage to describe what they've accomplished since being recognized by the MIT Technology Review: research and development, prototyping, product release, and a growing clientele. 2015 Innovator of the Year Romain Lacombe (Ecole Polytechnique, MIT, Fulbright alumnus) explains that his wearable air-pollutant sensors are now being used in London, where pigeon pollution patrols have been deployed to monitor the air quality.
At last the moment has come: Kathleen Kennedy, president of the MIT Technology Review, which oversees the MIT Innovators under 35 award in the United-States and several other countries, accompanied by Jacques d'Estais, Deputy CEO of BNP Paribas, opens the envelope containing the winning name: Timothée BOITOUZET.
Mr. Boitouzet is a graduate of the École Nationale Supérieure d'Architecture de Versailles and has worked with several of the world's top architecture firms. In 2010 he received a Fulbright grant, Arthur Sachs scholarship and Harvard Club of France scholarship to study at the Harvard School of Design.
His cross-disciplinary research led him to collaborate with the Wyss Institute for Biologically Inspired Engineering, Harvard OEB and Chemistry departments, as well as the High-Low Tech research group at MIT Media Lab. During these fellowships he worked with researchers developing the "material of the future" - translucent wood, a resistant and sustainable material as hard as concrete that could be produced in an environmentally friendly and energy efficient manner. The final image of Mr. Boitouzet's presentation certainly left a lasting impression: a wooden skyscraper.
Congratulations Timothée! The Fulbright program is extremely proud to have supported you at the beginning of this adventure, and by nominating you to receive this award recognizing your extraordinary accomplishments. Best of luck for the expansion of your pioneering start up "Woodoo," which we hope will be a huge success.
Click here to learn more.