20/12/2021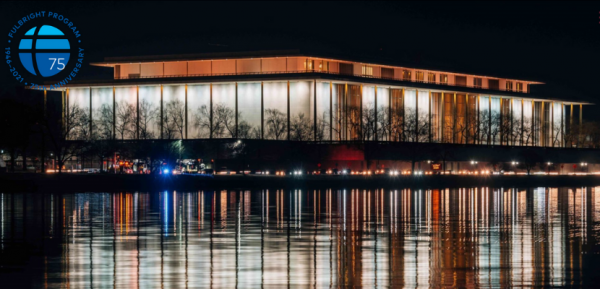 La Kennedy Center à Washington
Watch the video of the celebration
Fulbright Program Celebrates 75 Years of Impact
Alumni of Fulbright Program with France were featured among those making their mark in education, the environment, public service, science, and the arts
Paris, France – Four alumni of the Fulbright Program with France were featured in the Fulbright Program celebration of its 75th Anniversary on November 30 at the John F. Kennedy Center for the Performing Arts in Washington, DC, marking the accomplishments of the past 75 years and looking ahead to the exciting future of the U.S. government's flagship international academic exchange program.
More than 400,000 talented and accomplished students, scholars, teachers, artists, and professionals of all backgrounds have participated in the Fulbright Program since its inception in 1946, including 40 heads of state or government, 61 Nobel Prize Laureates, 75 MacArthur Foundation Fellows, 89 Pulitzer Prize Recipients, and 16 U.S. Presidential Medal of Freedom Recipients.
Fulbright France alumni Ruth Simmons and Benjamin TenOever were featured in video remarks about the impact of Fulbright on Education and on Science, Technology, and Public Health, and notable composers Philip Glass and George Walker were highlighted in a special tribute to Fulbrighters who have contributed to the arts.
RUTH J. SIMMONS (1967 Fulbright U.S. Student to France) is the president of Prairie View A&M University and a former president of Smith College and Brown University, with a lifelong passion for cross-cultural understanding and showcasing Black excellence in academia. When she was named president of Smith College in 1995, she became one of the first African American women to head a U.S. college or university and created the first women's college engineering program in the United States. When she became president of Brown in 2001, Simmons was the first African American president of an Ivy League institution, and she went on to earn Time Magazine's accolade as America's Best College President. As a student, she received a scholarship at Dillard University, an Historically Black College and University in New Orleans, before traveling to Lyon, France as a Fulbright student of French language and culture. Returning to the United States, she earned a Ph.D. in Romance Languages and Literature from Harvard University. She has received more than 30 honorary degrees and many other prominent awards, including CBS's Woman of the Year, the National Urban League Achievement Award, the President's Award from the United Negro College Fund, the Eleanor Roosevelt Val-Kill Medal, the Foreign Policy Association Medal, the Fulbright Association's Lifetime Achievement Medal, and the Centennial Medal from Harvard University. In 2009, President Barack Obama appointed Simmons to the President's Commission on White House Fellowships.
BENJAMIN TENOEVER (2015 Fulbright U.S. Scholar Distinguished Chair to France) is a professor of microbiology at the Icahn School of Medicine and Director of the Virus Engineering Center for Therapeutics and Research (VECToR) at Mount Sinai Hospital in New York whose expertise in the molecular biology of virus infection places him on the cutting edge of COVID-19 research and response. As a prominent virologist, he has been involved in an international consortium to develop vaccines and antivirals against COVID-19, which included continued collaboration with his Fulbright host, the Institut Pasteur in Paris.  Voir vidéo.
In his remarks, tenOever said, "Upon returning to the U.S. from the Fulbright Program, we created the first U.S. Pasteur Institute as part of the international network. It induced a collaboration that has gone on for years. The strength of this program was truly exemplified by the most recent COVID-19 pandemic, where international collaboration and shared knowledge just really propelled everybody's research program and allowed everybody to move and make progress at a speed that was unparalleled to anything that had happened before. The international community brought together by both Fulbright and as a community at large was essential to develop vaccines and understand therapeutic interventions to help save lives for the onslaught of COVID-19." View video.
PHILIP GLASS (1964 Fulbright U.S. Student to France) is a prolific American composer and founder of the Philip Glass Ensemble. Regarded as one of the most influential composers of the late 20th century, he has written critically acclaimed operas and symphonies as well as three Academy Award-nominated film scores, all in his minimalist style.  He was a 2018 Kennedy Center Honoree for his lifetime contributions to American culture through the performing arts.
GEORGE WALKER (1957 Fulbright U.S. Student to France) was a composer and the first African American to win the Pulitzer Prize for Music for his work Lilacs. He was the recipient of numerous awards including two Guggenheim Fellowships, a Fromm Foundation commission, and an American Academy of Arts and Letters Award.
Speaking to thousands of viewers around the world, U.S. Secretary of State Antony J. Blinken described the program's founding in 1946, immediately following World War II. "There was an urgent need to create lasting conditions for peace, to build mutual understanding among nations, to foster goodwill among their people. The Fulbright Program helped answer that need," Blinken said. "It brings people together through educational and professional exchanges, giving them a chance to learn about other countries and cultures, collaborate on issues of global importance, and create connections that last a lifetime."
Celebrating Fulbright's 75 years of impact, Blinken said, "As a diplomat, I love this program because it helps create the space for people to learn from each other and connect across cultural divides, which makes global cooperation possible. The members of the Fulbright community are changemakers. They care deeply about the problems facing our world today, from stopping COVID-19 to countering threats to democracy. And through Fulbright, they help strengthen our world, from classrooms, villages, universities, and cities across the globe."
The celebration highlighted more than 40 of these changemakers, focusing on five areas where Fulbright has made considerable contributions: public health, science, and technology; education; the environment; public service;  and the arts.  Guests at the event and the livestream audience heard personal stories and performances from some of the Fulbright Program's most extraordinary alumni, including recent participants as well as those who have had long and distinguished careers.
Two Members of the U.S. Congress who were Fulbrighters themselves -- Congressman Tom Cole, 5th District of Oklahoma, a 1977 Fulbright U.S. Student to the United Kingdom, and Congressman John Sarbanes, 3rd District of Maryland, a 1984 Fulbright U.S. Student to Greece – were among Representatives and Senators who spoke about the value of Fulbright Program opportunities to their constituents and the world. Other well-wishers were Senator Patrick Leahy, Vermont; Congresswoman Barbara Lee, 13th District of California; Senator Amy Klobuchar, Minnesota; Senator John Boozman, Arkansas; and Former Congresswoman Nita Lowey, 17th District of New York.
U.S. Embassies and binational Fulbright Commissions around the world serve a very valuable role in the Fulbright Program, hosting U.S. Fulbrighters, selecting citizens from their countries to participate, and running high-level meetings and programs for Fulbrighters and alumni. To mark the 75th anniversary this year, U.S. Embassies and Fulbright Commissions around the world have hosted "Fulbright Days" in their countries. Fulbright France is planning to host a Fulbright France Day in 2022, convening Fulbright Fulbright France alumni and experts for a discussion on "Climate Action: How can we be a part of the solution."
Visit Fulbright75.org to stream the recorded U.S. celebration and learn more about notable alumni, and see how to apply to Fulbright Programs for students, scholars, teachers, and professionals and how to connect with the Fulbright community.