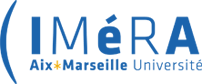 For established scholars
1 grant awarded
10 months strongly preferred 
Grant must begin in September 2024.
Conduct research in any discipline relating to migration studies at the Institut d'études avancées (IMéRA) of Aix-Marseille Université in Marseille, and participate in one or two day-long seminars on campus on the theme of the research project.
IMéRA is the Institute for Advanced Study of Aix-Marseille University, the largest Francophone university in the world. IMéRA welcomes scholars from around the world who are engaged in cross-disciplinary research projects for short-term stays. 
We expect applicants to solicit an invitation from an appropriate contact at IMéRA. 
For more information about IMéRA and Aix-Marseille Université, see the following websites:
Contenu accordéon:
Applications for the 2024-25 grants are due by September 15, 2023.
Research activities must begin in September 2024 or February 2025.
The US Scholars Program is administered by the Institute for International Education. For further information and to apply, please consult IIE's program page.  
Contenu accordéon:
The grantee will receive €2,400 (approx. $2,700) per month and an additional travel allowance of €1,200 (approx. $1,300) for grantee only.
Housing is offered by the host institution for the scholar and his/her family. Assistance will be provided to help the scholar place his/her children in local schools, if applicable. 
Expenses will be covered relating to the organization of on-campus academic events.
Titre accordéon:
Do I need to speak French?
Contenu accordéon:
French language ability should be commensurate with the requirements of the project.
We prefer candidates who intend to improve their French language skills.