04/12/2015 - Meetings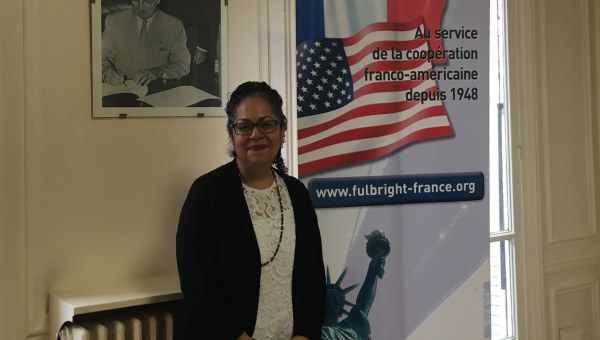 Fulbright Specialist Tanya Hernandez discusses Racial Equality at the Université Paris Ouest Nanterre La Défense
From November 24th to December 4th, the Centre de recherches et d'études sur les droits fondamentaux, part of the Université Paris Ouest Nanterre La Défense, hosted Fulbright Specialist Tanya Hernandez. 

Tanya Hernandez is a Professor of Law at Fordham University School of Law where she teaches Anti-Discrimination Law, Comparative Employment Discrimination, Critical Race Theory, The Science of Implicit Bias, and the Law: New Pathways to Social Justice, and Trusts, & Wills.
During her stay in Paris, Professor Hernandez held workshops and conferences on "Race, gender and discrimination: a US-Germany comparison", "U.S. Sexual Harassment Law and Women of Color", and "The Politics of Comparing Racism Across Jurisdictions". 
"My experience as a Fulbright Specialist Scholar at the University of Paris Ouest Nanterre La Defense was intellectually stimulating and rich. The purpose of my Specialist Grant was to provide an exposure to US equality law and my research into comparative civil rights issues. It was a great pleasure to share the latest scientific research regarding the psychology of racism and how pervasive it can be in even the most egalitarian societies across the world. My Nanterre students were deeply engaged and we had dynamic conversations. The students taught me a lot about the parallels that exist with the French context and I return to the United States with a broader understanding for teaching comparative equality law to my US students."