18/11/2015 - Rewards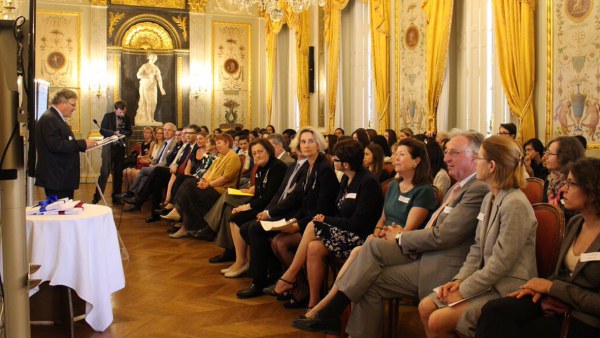 On Wednesday, the 10th of June, the jury of the Rochambeau Chapter of the Daughters of the American Revolution gathered students and other guests at the George C Marshall Center, Hotel de Talleyrand for the Rochambeau competition's awards ceremony held to commerorate the French contribution to the American Revolution. The ceremony was chaired by Mr. Philip Frayne, Minister Counselor for Cultural Affairs and Communication at the Embassy of the United iStates of America, and Mr. Claude Michellet, director of the Academy of Paris. The jury was chaired by Mr. Arnaud Roujou of Boubee, executive director of the Franco-American Commission, who shares with the Rochambeau Chapter the mission of developing the Franco-American friendship and mutual understanding between the two countries.

The goal of the competition was to improve the students' interest and knowledge of the American Revolution et the role played by France in the American victory.  Three classes of students from different schools created videos for the competition, about Gilbert du Moitier, marquis de La Fayette and Jean-Baptiste-Donatien de Vimeur de Rochambeau, two Frenchmen who contributed to the American cause. It was the group of students from the middle school of Saint Michel de Picpus who won first place. Second place was awarded to the team from Louis le Grand High School and third place was awarded to the students from Jean Moulin Middle School.