15/11/2023 - Meetings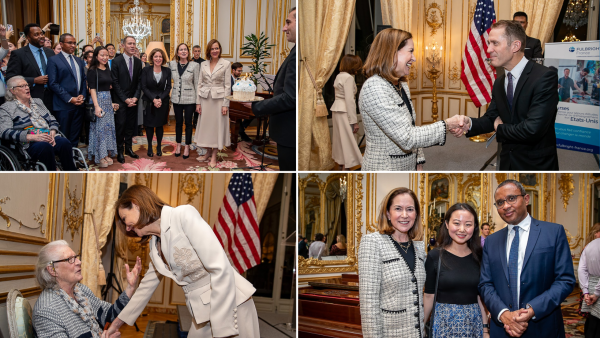 Reception in honor of Fulbright France's 75th anniversary at the Residence of the U.S. Ambassador to France - Wednesday, November 15, 2023
Our binational program led and funded by the U.S. and French governments, in partnership with regional, academic and private partners celebrated its 75th anniversary!
Since 1948, 21,244 recipients from both countries (students, language assistants, doctoral students, researchers, teachers, NGO workers, institutions, etc.) have benefited from our Fulbright France Program grants: 12,294 from France to the USA and 8,950 from the USA to France. 
We are proud of the longevity of our program, which for 75 years has fostered educational and cultural exchanges between France and the United States, with the aim of sharing, promoting and advancing knowledge and skills, responding to the challenges facing our societies, establishing lasting ties between our two countries, and contributing to mutual understanding between peoples. 
The reception, hosted by Mrs. US Ambassador, was an opportunity to listen to:
1) The welcome speech by Mrs. Denise Bauer, United States ambassador to France and Monaco
2) The remarks by Mrs. Lee Satterfield, Assistant Secretary of State for Educational and Cultural Affairs
3) The speech by Mr. Matthieu Peyraud, Director of Influence Diplomacy at the French Ministry of Europe and Foreign Affairs and Co-President of the Board of Directors of Fulbright France
4) The discussion about their experience as Fulbright France alumni between Mr. Pap Ndiaye, Ambassador, Permanent Representative of France to the Council of Europe, and Mrs. Jean Guo, CEO and co-founder of Konexio
5) The tribute paid by Martine Roussel, Fulbright France Executive Director, to the longest serving member, Mrs. Micaela Blay Thorup (French alumna, 1953)
6) Concert by Mrs. Isabelle Pazar & Mr. Samuel Gaskin (American Fulbright France alumni) and two other artists